7.2 lbs per minute (ie. one deer every seven minutes). That's the goal we set each night in order to balance Axis deer populations on Maui, and to win each night, we need extraordinary people, constant innovation, and a relentless sense of urgency. And so... we run to open gates, race each other while carrying deer, clean with unnatural eagerness, and drive fast!
When you drive fast though, you break stuff. When you add weight to your already fast driving, you break more stuff. When you add speed, weight, complete darkness, steep slopes, quick stopping, surprise bathtub water troughs, razor-sharp lava, mud, rain, and riverbed crossings, you break almost everything.
So when we met Tom a few weeks ago, we got excited. He's got a 1.5 L Turbo I-4 engine, 163 HP, 17" of ground clearance, and can handle a whopping 2,700 lbs of payload. We're hoping he's the answer to years of poor vehicle performance, and after some custom welding, he's recently joined our field teams.
He's adjusting slowly and looks to be an excellent fit for our rover team, which moves 50-75 deer as quickly as they can from the field back to our mobile processing units every night.
Wish him luck, he's gonna need it.
Jake and I excitedly and so gratefully traveled to New York City last week to accept Fast Company's Most Innovate Companies 2023 Award in the Ag Sector on behalf of our Maui Nui 'Ohana. Besides visiting Anita's Gelato (on the ancient Wickquasgeck trail, now called Broadway) more times than we will ever admit, Jake and I also made repeat visits to this expansive conversation of agricultural innovation.
Hawai'i's people have cultivated agricultural innovations in abundance and for millennia, innovations that, as people of islands, center balance with our finite and familial environment. A growing body of archaeological evidence tells the story of prolific food systems built to support a booming human population (about half of Hawai'i's current size according to conservative estimates) through a deep understanding of the needs and interconnectivity of all life across our landscapes.
The Kohala Field System, for example, is one of the most substantial prehistoric agricultural features in all the world, made up of over 500 miles of dense and intricate networks of field walls and paved trails. This rain-fed field system was devised for sweet potatoes - of which there were over 230 named cultivars - that averaged an estimated 66% higher yields per acre than Hawai'i's current average sweet potato yields on land that ranged from too wet to too dry, buffeted constantly by the famously strong Kohala winds, and all without a drop of herbicide. From vast kalo terraces to an effluence of aquaculture evidenced throughout Hawai'i in over 450 known loko i'a that anciently encircled our many estuaries, food innovations abounded with all planting and fishing timed by the seasons and the cycles of the moon.
My great hope is that the ways that we innovate at Maui Nui to create nutrient-dense food for our communities and to solve for the unique challenges of our time-will be reflective of the kinds of agricultural innovations that have existed in Hawai'i for so long, innovations that were able to feed a large population base whilst staying in balance with the natural world.
Last weeks NYC visit, with its miles and miles of museum-walking, also made clear the beautiful ways that food technologies are all peoples' earliest innovations - an integral piece of all of our stories, of the human story. We want to mahalo Fast Company for their important inclusion of innovative Ag companies alongside the likes of OpenAI, Microsoft, and all the rest. It is an honor to be counted among them, an honor we bring home to our hardworking team, and also to our communities, to our 'ohana of customers that have supported this work for so long, and to our kūpuna, our most innovative ancestors, who have gone, with such genius, before us.
If youʻve purchased or subscribed to any of our Pet Products, you should have already received a note from us about the upcoming discontinuation of our pet line. Itʻs been amazing to see the response you (and your pets) have had to our treats and topper and we are so grateful for the way in which those purchases have helped move our mission forward and helped us with whole animal utilization over the years.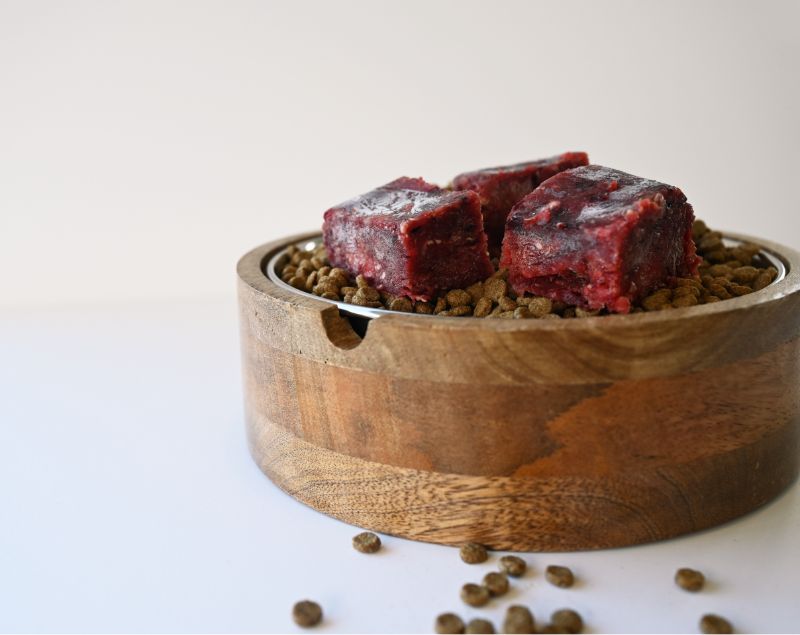 As informative as our "Why We Made This" email series can be, we wanted to take a minute to also be clear about "Why We Are No Longer Making This" when it comes to pet; in short, we've decided to stay focused on producing incredible venison…for humans.
Over the last couple of years, we've introduced a whole slew of cuts and products, learning as we went what products were destined to be fan favorites or helped to optimize operations and which offerings were not and did not. As we build towards 8,000 ʻOhana Box subscribers and get to balance, we will continue to focus on what cuts and offerings make the most sense for the health of Maui Nui, and, by extension, the health of our communities and places.
Will your pets miss their treats as much as ours will? Not to worry, we are partnering with some amazing pet food partners in the coming months and will be sharing details on these new partnerships and products when they are up and running. If you need to stock up in the meantime, Dog Treats, Pet Topper and Antler Chews will be available to purchase on our site until May 10th.
CURRENT SUBSCRIPTIONS WILL CONTINUE UNTIL SOLD OUT.
STOCK UP ON PET NOW
As this is already our 9th Volume of what has been described as the longest Newsletter ever, we have archived Volumes 1-8 for anyone who might love some backstories and extra long-form content.